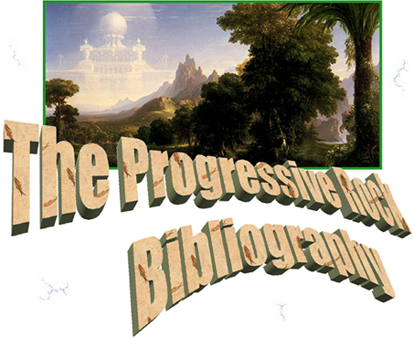 Mike Oldfield
Here you can see in chronological order those titles from the larger list that cover Mike Oldfield.
You can go directly to the following sections:


I. Books and articles already published



---
I. Books and articles already published:
Moraghan, Sean: Mike Oldfield - A Man and His Music. London 1983. ISBN: 0-9519937-5-5.
(A biography of Mike Oldfield. Also has some pictures. Thanks to John Kuge.)


Author? Mike Oldfield. Omnibus Press 1984. Fuori stampa. ISBN: 0711904804.


Oldfield, Mike: Born in the UK. London 1988. ISBN: 0863692419.
(A novel by Mike Oldfield? I don't know!)


Newman, Richard: The Making of Mike Oldfield's Tubular Bells. The story of a record which has sold over 15,000,000 copies and helped to found the Virgin empire. Ely 1993. ISBN: 1-870951-174.
(Hardback book telling the story of how Tubular Bells became reality,
complete with Mike's own memories and thoughts. Can be ordered at the Mike Oldfield website.
Thanks to John Kuge.)


Evans, Peter: Music from the Darkness - Mike Oldfield, 1953-1993. 1994.
(An electronic version can be found here.)


Weiss, Ralph: New Facts & Old Files. Discographie by Ralph Weiss. Süssen 1994. Privately issued, No ISBN.
(A 90 page Mike Oldfield discography in german. Order the book from here.)


Author? Mike Oldfield. Dark Star Back Issues. 1994.
(This 100 page paperback book contains the highlights from Mike Oldfield fanzines, including rare album reviews,
a comprehensive UK discography up to and including 1994 with a summary of all interesting international releases,
views and articles on Mike's music (including some humorous ones just for fun!) and a collection of exclusive
photographs. It also includes a free discography update to 1999. This is what the Mike Oldfield website says.)


Cantos, José: Mike Oldfield. 1st edition, Madrid 1996. 2nd Edition 1998. ISBN/EAN: A97884-376-1470-0 (ISBN: 84-376-1470-8).
(This book is in Spanish, it contains a couple of photos and a list of Spanish articles and TV appearances.)


Branson, Richard: Losing My Virginity: How I've Survived, Had Fun, and Made a Fortune Doing Business My Way. London 1998. ISBN: 0812931017.
New and expanded edition:
Branson, Richard: Losing My Virginity. London 2000. ISBN: 0753504561.
(This is the autobiography of Virgin Group founder Richard Branson.
Branson got his first million by releasing Mike Oldfield's debut "Tubular Bells"
(1998's "Tubular Bells III" put the series' sales over 20 million.)


Perleberg, Achim/Anja Preuß/Gert Hof et al.: Art In Heaven - The Millennium Event - The World's greatest Lightshow. Bochum 2000. ISBN: 3-9807371-0-1.
(This book contains photos and text about the making of the Berlin 2000 event
("'Art In Heaven' is a new genre of outdoor event, a unique synthesis of the arts.
It is a fusion of numerous art forms: different musical styles, light, pyrotechnics an special effects,
creating a stunning architectural choreography, a unified whole.
The world premiere of 'Art In Heaven' took place on Millenium Eve at the Siegessäule victory column in Berlin,
in the presence of more than 500.000 visitors. And more than 800 million people who experienced
the new milennium via their TV screens also saw the spectacular light show.").
Complete information about this book is available here.
It can be ordered by emailing artinheavenap@perleberg.de.)





The following might be songbooks:




Author? On Horseback. 1975.


Author? Portsmouth. 1976.


Author? Tubular Bells. 1983.


Author? Mike Oldfield 1973 - 1983. 1983.


Author? Tubular Bells II. 1992.


Author? Tubular Bells III. 1999.


---

Back to the Thematically sorted lists.

The young persons' guide to Progressive Rock books.

Desiderata.

Literary references in Progressive Rock.

Songbooks list.

My wants list.

Links.

Send me an e-mail: bibmaster{at}progbibliography.de