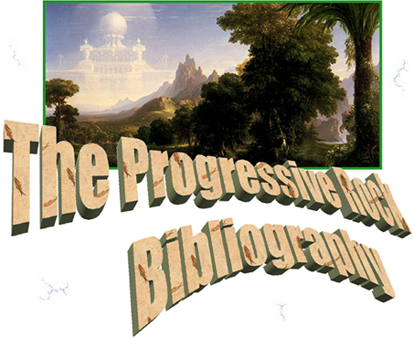 Marillion
Here you can see in chronological order those titles from the larger list that cover the ex-Prog band Marillion.
You can go directly to the following sections:


I. Books and articles already published



---
I. Books and articles already published:
Clerk, Carol: Marillion in Words and Pictures. London, 1985. ISBN: 0-7119-0768 (paperback).
(Mostly photographs, with an overview of the band's history from the early days
through the release of Misplaced Childhood. Thanks to John Kuge.)


Gifford, Clive: The Script: An Illustrated Biography. London, 1987. ISBN: 0-7119-1113-4 (paperback).
(Short Marillion biography with a lot of photos and a complete discography,
covering the band's history through 1986. Thanks to John Kuge.)


Wall, Mick. Market Square Heroes: The Authorized Story of Marillion. London, 1987. ISBN: 0-283-99426-6.
(The most complete biography of the band, up to and including Clutching at Straws. Foreword by Fish.
Thanks to John Kuge.)


Backhuys, Kees Jan et al.: Marillion Songbook - The Fish Lyrics 1982-1988, published by the author i.a.w. Dutch Marillion Fanclub 1989 (2nd. ed.: 2001?). No ISBN.
(Thanks to Carsten Busch.)


Kosinski, Piotr/Krzysztof Dmochowski: Marillion. Grendel, Fish i Hoggy. Kraków 1992. ISBN: 83-85335-05-6.


Chekroun, Jacqueline: Marillion. L'ère du poisson. Cagnes-sur-Mer 1994. ISBN: 2-9508781-0-5.


Wilkinson, Mark: Masque - The Graphic World Of Mark Wilkinson, Fish And Marillion. Haddington 2000. ISBN: 0-9539-5510-9.
(Author of most of Marillion's & Fish's sleeves, Mark Wilkinson is a designer of Roger Dean (Yes)
or Paul Whitehead (Genesis)'s calibre. A 178-page book gathers his best works commented and illustrated
by original documents. The book includes transcripts of a series of conversations between Fish and Wilkinson.
Can be ordered here or here.)


Rostek, André: A Collectors Guide to Marillion and Fish. Berlin 2002. ISBN: 3-931624-15-3.
(The book is an essential guide to Marillion and Fish: it contains complete
data of all 1,500 official Marillion and Fish records on vinyl and CD released
worldwide between 1982 and 2000 (including catalogue numbers, title listings etc.),
appr. 250 unofficial releases (bootlegs, radio shows etc.), tour dates of Marillion
and Fish, listings of all MARILLION and Fish songs ever recorded (with all different
versions), Top 20 Marillion rarities with their current market value, cover versions
of Marillion titles, important label discographies.
order here)


newly addedCollins, Jon: Marillion. Separated out. The complete history 1979-2002. London 2002. ISBN: 1900924498.


Whitaker, Sterling C.: Unsung Heroes of Rock Guitar. Self-published through ImprintBooks, Charleston, S. C. 2003. ISBN 1-59109-758-4.
(The book consists of in-depth interviews with fifteen
of rock music's most underrated guitarists - which is, in my humble opinion,
depending on who you ask -, including Mick Abrahams, Randy Bachman,
Martin Barre, Craig Chaquico, Larry Crane, Rik Emmett, Peter Frampton,
Gary Green, Bruce Kulick, Howard Leese, Doug Marks, Trevor Rabin,
Steve Rothery, Ty Tabor, Richard Williams. Thanks to Sterling Whitaker.
Buy the book here here)


---

Back to the Thematically sorted lists.

The young persons' guide to Progressive Rock books.

Desiderata.

Literary references in Progressive Rock.

Songbooks list.

My wants list.

Links.

Send me an e-mail: bibmaster{at}progbibliography.de