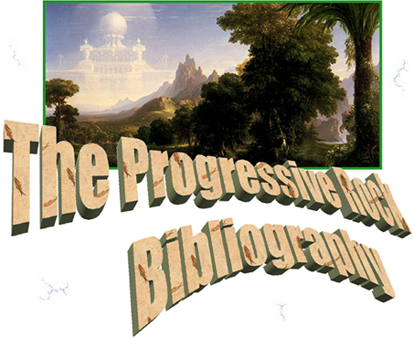 Italian Progressive Rock
Here you can see in chronological order those titles from the larger list that cover italian Progressive Rock.
You can go directly to the following sections:


I. Books and articles already published
II. Books in the making



---
I. Books and articles already published:
Angiolini, Saverio/Enzo Gentile: Note di Pop italiano (=Guida 8). Milano 1977. Second edition 1978. No ISBN.
(153p. "difficult to find and highly questionable in their statements" ist what an italian website says about the book.)


Piferi, Riccardo: Premiata Forneria Marconi. Roma 1981. No ISBN.
("The first half of this book consists of a long and interesting interview
with Di Cioccio, Djivas and Mussida, covering many well-known (and several lesser known)
aspects of PFM's career between 1968 and 1981. In the second half of the book,
lyrics of 20 PFM songs are reprinted. Italian translation of English lyrics is provided for 4 songs.
Finally, an LP discography is provided.")


Caporale, Piergiuseppe: Banco. Il manuale del gruppo rock. Roma 1982.
(This is not a book about Banco...! Here is what the official Banco website says:
This manual was published by Antrophos edition in 1982. It arose from the experience of
Banco del Mutuo Soccorso and wants to provide help for all who wish to have a band.
How to write a track, how to record, how to organise a tour...
this and a lot more plus 50 unpublished photos.)


Charles, Daniel: Hommage an Demetrio Stratos. In: Fragmente. Schriftenreihe zur Psychoanalyse. Nr. 35/36, Kassel 1991, pp 135 - 143.


El Haouli, Janete: Demetrio Stratos - Alla ricerca della voce-musica. N° 33 del periodico Sfera, Milano march-april 1993. (Book + CD).
(An essay about Area's singer Demetrio Stratos and his voice which is, as El Haouli concludes,
close to the tuva-mongolian throat singing tradition. It also includes writings by Stratos' colleagues
and historians of italian Progressive Rock and several of Stratos' drawings and lyrics as well as a
complete Area and Stratos discography. The CD is a compilation of Area and Demetrio Stratos tracks.
The book can be purchased from btf.it.)


Yamazaki, Naohiro (ed.): Marquee Encyclopedia of European Rock 1. Italy 1965-1993. (cover title: Encyclopedia of Italian Rock: Marquee Special Edition). Tokyo. 1993. No ISBN.
(While available only in a Japanese editon, each record cover is shown along with its artist name,
title, record label, catalog number and date in English. 258 pages of reviews on Italian records,
including 45s, released from 1965-1993. Also included are 8 full-colour pages of rare '70's group photos.
Thanks to Werner Regenthal.)


Rizzi, Cesare/Fulvio Beretta: Enciclopedia del rock italiano. Milano 1993. ISBN: 88-7966-022-5.
(About one third of the book is about the italian Progressive Rock scene (pp. 189 - 392).
Unfortunately, Casiraghi focuses mainly on the big names.
Btf says: "A huge encyclopedia, organised in three main chapters: 60s, 70s and 80s.
Detailed description of all groups and solo artists of the native italian rock scene,
with full discographies of all vinyl and CD releases. This big heavy hardcover book
of 600+ pages is an essential reference work about italian rock!
The interesting chapter dedicated to the Seventies was compiled by Giordano Casiraghi
and has a nice introduction written by PFM's drummer, Franz Di Cioccio.")


Flesca, Valentino: Il pop & progressive in Italia. Varese 1995. Published by the author, no ISBN.
(Similar to Paolo Barotto's book, it provides a list of the italian Progressive Rock bands,
which is quite complete. Flesca also adds critical discographies.)


Di Cioccio, Franz: Premiata Forneria Marconi: Due Volte Nella Vita. Milano 1996. ISBN: 88-04-41064-7.
(A detailed autobiography that also reveals a lot of unkown inside stories
about PFM's career, from the early days until "Ulisse".
The book includes a full PFM discography and the band's family tree.


Mirenzi, Francesco: Rock progressivo italiano. Vol. 1: La storia, i protagonisti, i concerti. Roma 1997. ISBN: - 88-8210-007-3.
Mirenzi, Francesco: Rock progressivo italiano. Vol. 2: I gruppi: il racconto dei protagonisti. Roma 1997. ISBN: - 88-8210-008-1.
(A well researched work with a lot of inside stories.)


Marengo, Renato/Michael Pergolani/Mario De Felicis/Umberto Telesco: Song 'e Napule. Rome 1998. ISBN 88-397-1029-9.
(The Rock and Prog scene in Naples. Contains discography and name index.)


Ellena, Lodovico: Storia della musica psichedelica italiana. Menhir Libri 1998.


Monti, Cesare/Wanda Spinelli: Lucio Battisti e la Numero Uno. Milano 1999. No ISBN. Maybe the same as:
Monti, Cesare: Lucio Battisti e la Numero uno nelle fotografie di Cesare Monti. Milano, Zargo 1999. ISBN: 8887833095.
(A photo book with the story of Numero Uno label.)


Pallavicini, Piersandro: Quei bravi ragazzi del rock progressivo. Roma 1998. Second Edition: Roma 1999. ISBN: 88-241-0537-8.
(An italian book featuring a Prog history and a description of the various "schools"
(like Canterbury, Neo Prog) and national scenes. It also has a chapter on Prog bootlegs.
There is an appendix featuring Prog labels, Fanzines and internet sources.)


Rizzi, Cesare: Progressive. Firenze 1999. ISBN: 88-09-21787-X.
(The book provides bibliographies and discographies of the most important,
but also of the less known bands of the genre. There is also a chapter dedicated to the italian scene.)


Barotto, Paolo: Il ritorno del Pop italiano. Dal 1970 al 2000. 4. edition, Luserna 2000. Published by the author, no ISBN.
The third and expanded edition has been translated into english and published as:

Barotto, Paolo: The return of italian Pop. Milano 1996. No ISBN.
(The main focus of the book is on the italian Prog scene of the seventies.
Younger bands and solo artists are compiled in an appendix.
There are also a couple of interviews with the musicians. Very good book!)
And there is another new edition:
Barotto, Paolo/D'Ubaldo, Marco: Rock Progressivo Italiano. The Complete Discography. With CD. New edition, Milano 2006. ISBN: 8889886013.
(200 pages. btf: "This new volume includes complete discographies
for all artists and groups, updating the previous Barotto book
"Il ritorno del Pop italiano". Many new entries and weird, obscure
italian prog bands' rare discographies including a sampler CD of
italian prog-rock best tracks from the Seventies: 15 tracks by Osanna,
Delirium, New Trolls, Quella Vecchia Locanda, Raccomandata Ricevuta di Ritorno,
Area, Panna Fredda, Orme, Procession, Metamorfosi, Genco Puro & Co. Osage Tribe,
Libra, Cherry Five and Motowns. Full color reproductions of hundreds of original
LP and singles covers, plus rarity ratings, plus rare magazine covers of Ciao 2001
from the Seventies". Buy Barotto's book at btf.it.)


De Bellis, Pio: Ricerche per un'apoteosi del Pop italiano. 2000. No ISBN.


di Fonzo, Luigi: Il Rock in Abruzzo. EcamLab, Pescara 2000. No ISBN.
(A 250 page history of Rock and Prog in Abruzzi since the late 50ies.)


Aymone, Carmine: Osanna. Naples in the world. Napoli, Edizioni Afrakà 2001. No ISBN.
(The story of Osanna with details on other Naples connected bands. Preface by Peter Hammill.
A website dedicated to the book is here.)


Dovico, Paolo/Luigi Riganti: Vinile italiano. Indice del nuovo rock dal 1977 al 2002. Torino 2002. Privately issued, No ISBN.
(Only a few Prog albums are mentioned. Order this book from: vinileitaliano@virgilio.it)


Fabbri, Franco: Album Bianco - Diari Musicali 1965-2002. Milano/Padova 2001. ISBN - 88-7966-230-9. 2nd edition: Roma 2002. ISBN - 88-7966-259-7.
(249 p. Stormy Six guitarist traces his band's history and the whole italian scene. In italian.)


Vassia, Franco: I campi della memoria, semi di beat, folk & rock. San Sebastiano da Po 2001. No ISBN.
(Franco Vassia is the editor of the italian prog magazine "Nobody's Land". Vassia collected all the interviews he has done over
the years for his magazine and published a selection of interviews
into the "Campi della memoria" softcover book (It contains interviews
with Vittorio Nocenzi (Banco), Mauro Pagani, Franco Mussida and Franz
Di Cioccio (PFM), Aldo Tagliapietra and Michi Dei Rossi (Orme), Vittorio
De Scalzi (New Trolls), Joe Vescovi (Trip), Gianni Leone (Balletto di
Bronzo), Furio Chirico, Gigi Venegoni and Beppe Crovella (Arti & Mestieri),
Giancarlo Onorato (Indaco), James Senese and Franco Del Prete (Napoli Centrale)
among other rock and pop artists). The book is entirely written in italian,
with a b/w photo section. Buy here.)


Barotto, Paolo: 100 foto storiche (di Pop italiano). 2002. Privately issued, no ISBN.
(Contains 100 Photos of Prog artists, such as Alluminogeni, Antonius Rex, Area,
Arti e Mestieri, Balletto di Bronzo, Banco del mutuo soccorso.)


newly addedMirandi, Leandro Tonino: Vento, terra, pioggia, fuoco. Elementi, cielo, aria, la notte, notturno, acqua, mare, ecologia e natura ; L'interpretazione pittorica dell'artista che trae lo spunto dall'omonima opera musicale "Elementi" pubblicata nel 2001 dal famoso gruppo storico della musica "rock progressive" le Orme ; una fusione tra la musica e la poesia nella pittura. San Gabriele, Editoriale Eco 2002. No ISBN.
(Published in connection with an exhibition held in Accademia internazionale Sant'Agostino, Rome, in 2002. Pictures by Mirandi, inspired by Le Orme' "Elementi". 183 pages.)


Ansali, Paolo/Paolo Besagno/Paolo Carnelli/Daniele Cutali/Matteo D'Agord/Massimo Forni/Emanuele Kraushaar/Paolo Noro/Riccardo Storti/Pasquale Scarpato/Pierpaolo Tondo/Donato Zoppo: Racconti a 33 giri - 50 album per scoprire il rock progressivo italiano. Genova 2003. No ISBN.
(Detailed Reviews of 50 essential italian Lps. 13 Authors, foreword by Gianni Leone. Presented by Il Centro Studi per il Progressive Italiano, MovimentiProg and Wonderous Stories.)


Marengo, Renato/Michael Pergolani: Enciclopedia del Pop Rock napoletano. Roma, RAI-ERI 2003. ISBN - 88-397-1230-5.
(345 Pages about the Rock and Prog scene in Naples.)


Storti, Riccardo: Progressive in italia. Genova 2003. No ISBN.
(A 32pp survey of classic 70s Prog in Italy. Can be ordered here.)


Torelli, Ivan.: Il rock progressivo italiano degli anni Settanta (tesi di laurea al momenta inedita, discussa presso l'Università degli Studi di Parma - Facoltà di Lettere e Filosofia) Parma 2003. No ISBN.


Aloisio, Giovanni: Goblin. La musica, la paura, il fenomeno. Roma 2005. ISBN - 88-894-8102-1
(232pages about Goblin.)


Aymone, Carmine: Je sto cca'...: James Senese. Napoli 2005. ISBN - 88-718-8997-5.
(162 p. + 1 compact disc. The story of the leader of Showmen and Napoli Centrale, with a bonus 6-track CD.)


Casiraghi, Giordano: Anni Settanta. Generazione rock. Roma 2005. ISBN: - 88-359-5728-1.
(429p. Interviews with important people of the seventies, also includes a part on discographies,
but rather incomplete. In italian.)


Chiriacò, Giampaolo: Area - Musica e rivoluzione (=Rock people 3). Roma/Viterbo 2005. ISBN: -88-722-6853-2.
(An 113p. italian book, dedicated to the italian band Area, including a bonus CD of the
"Parco Lambro" live concert from 1976 (first CD-reissue) with tracks by Area, Sensation's
Fix, Canzoniere del Lazio, Tony Esposito, Ricky Gianco, Eugenio Finardi, Agorà, Taberna
Mylaensis, etc... Buy here.)


Storti, Riccardo: Codice Zena: itinerari musicali. Milano 2005. ISBN - 88-901-6480-8.
(Storti tells the story of the Genova prog scene since the late 60's, with interviews and discographies.. In italian.)


newly addedTrifirò, Gian Piero: Storia e leggenda. Orme Music Club 2006. Privately issued, no ISBN.
(Le Orme biography. 300 pages. In italian.)


Zoppo, Donato: Premiata Forneria Marconi: 1971-2006. 35 anni di rock immaginifico. Roma 2006. ISBN: 88-359-5831-8.
(A new book about the italian prog band PFM, a biography
from their beginnings as Quelli to their 2005 rock opera "Dracula". Prefaces by Mauro Pagani,
Fabrizio De André, Vincenzo Incenzo, and Greg Lake, complete with bibliography and discography. 285 pages.)


Sportouche, Thierry/Jacques Toni: Acid Dragon Dossier: Storia Di Un Minuto.
(A comprehensive guide to the Italian progressive rock of the 70's. 40 pages.
More information here.
French magazine Acid Dragon has published a certain number of special reports. Written in English,
those files soon proved to be an essential source of information about an entire segment of progressive rock.
The 40-page book "Storia Di Un Minuto" is a guide through the great names of the Italian Progressive music
of the Seventies. Fifty groups are listed, with reprints of covers. Texts in English.
"The Brass Lizards" (by Jacques Toni, see below) lists Progressive bands with brass instruments
(Colosseum, Soft Machine, etc...).
"Favourite All Time Progressive Rock Albums" (by Phil Jackson, see above) offers a subjective classification
of the best 100 albums ever made. Can be ordered here.)




---


II. Books in the making:
Freeman, Steven/Allan Freeman: A new book about Italian progressive rock


---

Back to the Thematically sorted lists.

The young persons' guide to Progressive Rock books.

Desiderata.

Literary references in Progressive Rock.

Songbooks list.

My wants list.

Links.

Send me an e-mail: bibmaster{at}progbibliography.de