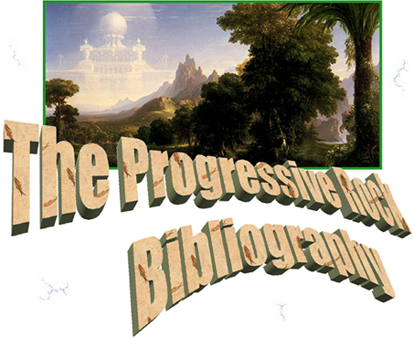 German Progressive Rock
Here you can see in chronological order those titles from the larger list that cover German Progressive Rock.
You can go directly to the following sections:


I. Books and articles already published
II. Books in the making



---
I. Books and articles already published:
Schober, Ingeborg. Tanz der Lemminge. Eine Musikkommune in der Protestbewegung der 60er Jahre. Reinbek bei Hamburg: Rowohlt, 1979. ISBN 3-499-17260-7. Re-published Augsburg 1994.
(A book about Amon Düül.)


Kneisel, Christian: Wo das Kraut wächst. Rock in der Bundesrepublik. In: Kneif, Tibor (Ed.): Rock in den Siebzigern. Jazzrock, Hardrock, Folkrock u. New Wave. Reinbek 1980, pp. 197 - 245. ISBN: 3-499-17385-9.
(A history of 70ies Krautrock in the Bundesrepublik.


Leitner, Olaf: Rockszene DDR. Aspekte einer Massenkultur im Sozialismus. Reinbek bei Hamburg 1983. ISBN: 3-499-176971.
(This is a book about rock music in the GDR in general,
but there is also some very intersting information about GDR-Art Rock.
The book also includes a small encyclopaedia including bands like Lift,
Stern Combo Meißen etc. Thanks to Ralf J. Günther.)


Groh, Achim: Eine Diskographie Zur Deutschen Musik Szene. Neuendettelsau 1989. Published by the author. No ISBN.
(A 332 page book written in German. Includes a discography of many Prog, folk labels (ohr, brain,...)
and a chapter with an artist discography. Thanks to Manuel da Achada.)


Matsumoto, Masayuki (ed.): Marquee Encyclopedia of European Rock 2. Germany 1969-1994. (cover title: Encyclopedia of German Rock: Marquee Special Edition). Tokyo 1994. No ISBN.
(A detailed account of not only the 1969-1994 German rock scene and the East German, Austrian and
Swiss scenes as well. Included in the 244 information packed pages are 16 pages of record reviews
in full colour. Enough printed in English. Comes with a large colour collage poster.
Thanks to Werner Regenthal.)


Siepen, Elmar: Untersuchungen zur Geschichte der Rockmusik in Deutschland: Die Gruppe "CAN". Frankfurt am Main 1994. ISBN: 3-631-46443-6.


Cope, Julian: KRAUTROCKSAMPLER: One head's guide to the great Kosmische Musik - 1968 onwards. Löhrbach 1995, ISBN: 0-9526719-1-3. 3rd edition 1996, ISBN: 3-925817-86-7.


Koch, Ralf: Deutsches Progressiv Rock Verzeichnis. 1st edition 1995. Published by the author. No ISBN.
(The book contains information about german prog bands (still) active in 1995.
It is regularly continued in the british "wonderous stories" magazine. Thanks to Carsten Busch.)


Asbjørnsen, Dag Erik: Cosmic Dreams at play: A guide to german progressive and electronic rock. Glasgow 1996. ISBN: 1-899855-01-7.
(There is a website dedicated to the book:
http://tmachine.chat.ru/germ/progrtop.htm
It seems to be the whole book there!)


Akashi, Masanori: Doitsu no Rokku Ongaku [Rockmusik aus Deutschland] matawa Can, Faust, Kraftwerk. Tokyo. 1st ed. 1997. ISBN: 4-89176-349-3. 2nd ed.: 4-89176-486-4.
(In japanese. Containes imaginary liner notes for the albums of these artists.)


Freeman, Steven/Alan Freeman: The Crack in the Cosmic Egg. Leicester 1997. ISBN: 0-95295-06-0-X.
(A very detailed discography to german Prog- and Krautrock.)


Pucci, Celso: Can. Unanimidade subterrânea. Especial para o "Estado de São Paulo" 31. julho 1997.
(This is an online article. Click here.)


Stump, Paul: Digital Gothic. A critical discography of Tangerine Dream. Wembley (UK). 1997. ISBN: 0-946719-18-7.


Bussy, Pascal/Andy Hall: Das CAN-Buch. Augsburg 1998. ISBN: 3-926794-07-0.
(A history not only of the band, but also of ist members. Complete with a chronology and discography.)


Schmidt, Hildegard/Wolf Kampmann: Can Box Item II: Book. Münster 1998. ISBN 3-933642-01-09.
(This book was part of the Can Box set.)


Balitzki, Jürgen: Electra, Lift, Stern Combo Meißen. Geschichten vom Sachsendreier. Berlin 2001. ISBN: 3-89602-323-3.
(Thanks to Ralf J. Günther.)


newly addedRoux, Dominique: Klaus Schulze, un saut dans l'inconnu. Association Internationale Cosmique, 2002. Privately published, no ISBN.
(160 pages, in french. Check out the official website. Thanks to Mac de Paz.


Mauro, André/Breno Ninini: Rock Germânico no Brasil.
(This is an online article. Click here.)


Sonnemann, Ralf/Stoeferle, Peter/Hargreaves, Matt: Voices in the Dunes. The Tangerine Dream worldwide discography. Clausthal-Zellerfeld (Germany). No year, No ISBN.



---





II. In the making



Pfeifer, Eric: Krautrock
(Eric Pfeifer is working on a Diplomarbeit about Krautrock)


---

Back to the Thematically sorted lists.

The young persons' guide to Progressive Rock books.

Desiderata.

Literary references in Progressive Rock.

Songbooks list.

My wants list.

Links.

Send me an e-mail: bibmaster{at}progbibliography.de