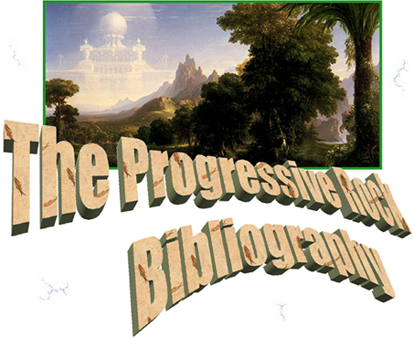 The Canterbury scene
Here you can see in chronological order those titles from the larger list that cover the Canterbury scene.
You can go directly to the following sections:


I. Books and articles already published
II. Books that have not been published yet
III. Books in the making



---
I. Books and articles already published:
Hillage, Steve/Miquette Giraudy: The Little Book of Words. Privately issued, no ISBN.
(A reprint of a long, long deleted booklet by Steve Hillage and Miquette Giraudy
containing the complete song-lyrics of 'Fish Rising', 'L' and 'Motivation Radio'.
40 page booklet. Can be ordered at Planetgong.)


Allen, Daevid: If Words were Birds. London, 1964. Privately issued, no ISBN.
(Allen's first volume of poetry. 21 early poems,
including the first appearance of 'Captain Shaw & Mr Gilbert'.
Allen originally gave copies to all his friends to illustrate, à la Sun Ra -
the band illustrating their own LP sleeves. 28 page booklet.
Can be ordered at Planetgong.)


Allen, Daevid: Book of Cloroforms. Poetry of the sleeping life. 1966. Privately issued, no ISBN.
(Book of Allen's text-rich line drawings. Includes fragments of
future Daevid Allen and Gong lyrics 40 pages.
Can be ordered at Planetgong.)


Allen, Daevid: What Happened To Walter. A Bananabook for Helen & Walter, The Travelling Allens. 1969. Privately issued, no ISBN.
(A little cartoon-type book was drawn by Allen for his parents
who came to visit Gilli Smyth and him in Deya in 1969. Allen was slightly
aprehensive about seing his parents for the first time since he left
Australia 10 years before. Needless to say many things had changed
since he left Oz in 1959, added to that they were also meeting Gilli
for the first time. This funny fantasy catoon story about how the
meeting might possibly turn out was his response. 14 page booklet.
Can be ordered at Planetgong.)


Carr, Ian: Music Outside - Contemporary Jazz in Britain. London 1973.
(Ian Carr played with Jon Hiseman, Nucleus, Centipede and others
and has also released a couple of solo albums.)


Cutler, Chris: File under Popular: Theoretical and Critical Writings on Music. London 1985. ISBN: 0-936756-34-9. ISBN: 0946423016 (paperback).
Second edition, London 1989. ISBN: 0946423032 ISBN: 0946423040 (paperback).
Revised edition, London/New York 1992.

Revised German edition, publishers Michael Schwinn 1994.

Revised, expanded Japanese edition, publisher Susei Sha 1996.

Revised, expanded Polish edition.

French translation in train.
(Cutler was Henry Cow's drummer.)


Nuttall, Jeff: The bald soprano. London 1989. ISBN: 1871548152.
(On Lol Coxhill, a Canterbury scene saxophone player, who played with Kevin Ayers,
Hugh Hopper, Caravan (amongst others) and released a couple of solo albums.)


Halbscheffel, Bernward: Früher Jazzrock in Großbritannien - die Canterbury-Strömung. In: Jazzforschung/Jazz Research no. 22, Graz 1990.
(On the Canterbury scene. You might also want to check the author's website.)


Allen, Daevid: Shapeshifter. The book. 1992. Privately issued, no ISBN.
(Allen's companion book to Gong's album of the same name. Written and illustrated
by Allen. A densely packed book full of detail, an unmissable aid to the fuller
and deeper understanding of Gong's Shapeshifter album. The story of
Zero the Hero continues, forbidden the use of money, he enters a limbo-like
state linked to constant travelling around the world by plane, leaving it briefly at
various destinations for further strange initiatory adventures.
As the Shapeshifter album is Radio Gnome Invisible Pt. 4, this book is a vital and
highly entertaining key to understanding the link between 'You' and the recent
'Zero To Infinitea'. First published in 1992. Contains complete Shapeshifter Lyrics.
56 page book. Can be ordered at Planetgong.)


Allen, Daevid: Gong Dreaming 1. 1966 - 69: Soft Machine. Glastonbury 1994. ISBN: 1-899475-00-1.
A new edition is expected by november 2005:
Allen, Daevid: Gong Dreaming 1: From Soft Machine to the Birth of Gong. Wembley 2005. ISBN: 0946719829. (192 pages).
(Daevid Allen's history of the early Soft Machine. There will be a second part called
'Gong Dreaming 2, Gong: 69-75' and further sequels! More info here or here.)


King, Michael: Wrong Movements: A Robert Wyatt History. Wembley 1994. ISBN: 0-946719-101-1.

There has been a japanese Translation: Tokyo 1997. ISBN:4-7926-0281-5.


Fitch, Vernon: A Collectors Guide to Soft Machine, Gong, Henry Cow & Related Group Recordings. Pink Floyd Archives (PFA) 1998. No ISBN.
(A privately issued 44 pp. book that lists hundreds of live recordings by the
Soft Machine and their many offshoots. Other bands listed include Matching Mole,
Carla Bley, Delivery, Elton Dean Quartet, El Skid, Hugh Hopper Band,
Hopper-Dean & Coxhill, Hopper-Dean-Tippett & Galivan, In Cahoots, Isotope,
Just Us, Ninesense, Pink Floyd, Raincoats, Soft Head, Soft Heap, Supersister,
Symbiosis, Wilde Flowers, WMWM, Wolf, Robert Wyatt, Gong, Daevid Allen,
Mother Gong, Steve Hillage, Tim Blake, Didier Malherbe, Bloom, William Burroughs,
Here and Now, Pierre Moerlen, Octavia Neptune, Terry Riley, Kevin Ayers,
David Bedford, Lol Coxhill, Mike Oldfield, Caravan, Hatfield and the North, Egg,
Gilgamesh, National Health, Gordon Beck Quartet, Bill Bruford Band, Camel,
Contrepoint, Ivor Cutler, Allan Holdsworth, Nucleus, Rapid Eye Movement, Tempest,
David Sinclair, Dave Stewart, Keith Tippett, U.K., Henry Cow, Art Bears,
Duck & Cover, Fred Frith, Skeleton Crew, Massacre, The Work, Peter Blegvad Ensemble,
Boulevard Theater, Faust, Slapp Happy, Zu Band and others.
It also contains concert dates from the 1960s and 1970s.)


Joynson, Vernon: The Tapestry of delights. The comprehensive guide to british music of the beat, R&B, psychedelic and progressive eras 1963 - 1976. 3rd Edition, Glasgow 1998. ISBN: 1899855084.
(Maybe the most detailed and best researched discography listed here. There is a great website:
http://www.borderlinebooks.com/uk6070s/tapestry.html
In fact, it contains the whole thing!)


Allen, Daevid: Camembert Electrique Lyric Book. Privately issued, no ISBN.
(Reproduction of original lyric inserts. All the lyrics of Camembert Electrique
illustrated by Allen. Originally came as an insert in the first BYG pressings
of the classic LP. 8 page card booklet. Can be ordered at Planetgong.)


Garmo, Trond Einar: Henry Cow. En analyse av avantgarderock, NTNU, Trondheim, Norway, 2001. ISSN: 1502-6272, ISBN: 82-92267-02-6.
(A 239 p. Thesis on Henry Cow at the Institute for Music, University of
Trondheim (NTNU). A history of Henry Cow and an analysis of most of their
work. 82 pages of transcriptions and a huge discography. The thesis was done
in 1985 and has been updated for publication. The members of Henry Cow have
participated in festivals of modern music in Trondheim. The book might not
be available from any other place than the University bookstore in Trondheim,
as the book is part of a series of publications by the institute itself, and as
far as I understand, not distributed to bookstores elsewhere. (Thanks to Geir Hasnes))


Smyth, Gilli: Godly Talk. 2001. Privately issued, no ISBN.
(20 page A5 format booklet of lyrics and poems by Gilli, Illustrations by
Taliesin Allen. Some of the lyrics in this volume made their first public appearance
on the recent Gong tours. Titles include 'The Song of O', 'If We Were Gods and
Goddesses', 'I Am Invisible' and 'Mysterious Stranger'. Can be ordered at Planetgong.)


Smyth, Gilli: Vagaries of Godly Talk. 2002. Privately issued, no ISBN.
(40 page A5 format book. Illustrations by Taliesin Allen. 23 perceptive, satirical
pieces, with themes such as e-mails from God. meeting your clone and bizarre physics.
A sequel to'Godly Talk'. Can be ordered at Planetgong.)


newly addedBennett, Graham "Soft Machine. Out-Blooody-Rageous", London 2005, SAF Publishing. ISBN: 0-946719-84-5.


Author? Rock Talk.
('Rock' Stories, contributors include Daevid Allen & Keith tha Bass. A collection of rock stories and tall tales from a
range of contributiors such as Roy Harper, John Cooper Clarke, John Otway and Wilko Johnson among many others. Keith tha Bass's
recalling of one very long, very crazy day on the Here & Now Tour Bus is worth the entry price alone, but then there's also
Allen on the roots of Gong. 190 page paperback book. Can be ordered here.)




---




Allen, Daevid: Gong Dreaming 2, Gong: 69-75. 2006.
(This is part 2 of Allen, Daevid: Gong Dreaming. Soft Machine 66 - 69. 1994. More info here.)




---





Allen, Daevid: Gong Dreaming 3.
(This volume will cover the period from 1975 to Allen's work
with Bill Laswell and his return to Australia.)


Allen, Daevid: Gong Dreaming 4.


Allen, Daevid: Gong Dreaming 5.
(This volume will cover the Eighties.)


Allen, Daevid: Gong Dreaming 6.


Leroy, Aymeric: A book about the Canterbury scene.
(No publication date is known yet. "The book will aim to provide the definitive
history of the Canterbury scene, as documented in the extensive press archive I have
had access to, and as told by ist protagonists, a lot of whom I have already conducted
thorough and exclusive interviews with. The book will also offer a critical perspective
on the vast musical legacy of that scene." Source.)


---

Back to the Thematically sorted lists.

The young persons' guide to Progressive Rock books.

Desiderata.

Literary references in Progressive Rock.

Songbooks list.

My wants list.

Links.

Send me an e-mail: bibmaster{at}progbibliography.de